Trailer Repair Norfolk Nebraska – Hoppers, Live Bottom & All Trailer Repair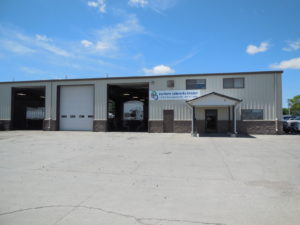 Eastern Nebraska Trailer Repair is a trusted & respected 6-bay trailer repair shop in Norfolk, NE. We have served the community of Norfolk and the surrounding areas for over 9 years. If you have a problem with your trailer, we can fix it! Our knowledgeable staff specializes in repairing all makes and models of trailers.
Location: Eastern Nebraska Trailer Repair
1212 S. Pine Industrial Road
Norfolk, NE 68701
Phone: (402) 371-0855
Click to Call – (402) 371-0855
Hours:
8 am to 5 pm Monday thru Friday
8 to noon on Saturday
Proper maintenance of trailers is very important for any truck or transportation fleet, no matter the size. A thorough inspection ensures that you can take care of all your trailers problems. From the run of the mill maintenance, to the more complex issues, ENT can and will get the job done the right way.
We understand that in some scenarios companies are going to be short on time. With this being a problem for most fleets, only quick patch work is done without ever being seen by a professional.
 Although the issue may have been fixed at the time, there is a chance that this could lead to additional problems and costs for your trailer. When you find yourself in such a scenario, think of Eastern Nebraska Trailer Repair.
Catering to all makes and models of trailers, Eastern Nebraska Trailer Repair offers excellent trailer repair services in Norfolk at affordable rates. When your trailer needs work done be sure to keep the trailer professionals at Eastern Nebraska Trailer Repair in mind.
Grain Hopper Trailer Repair Norfolk NE
Grain Hoppers are used for a variety of different products. These products can range anywhere from agricultural products such as corn and beans to more damaging products to the hopper such as rock and coal. No matter what you are hauling there is always a chance of damage being done to the trailer. 
There are ways to keep your trailer looking and performing as it always has. Annual DOT Inspections are required by law and do catch issues you may not have known prior to the inspection. Services whenever you feel necessary also help with maintenance of the trailer.
The DOT Inspection and Services throughout the year coupled with a close eye from those around the trailer most are the best bet that a major repair is not needed. With this being said, issues can still arise but are less likely.
If and when issues arise on your grain hopper, you can be at ease knowing that we have seen it all and have the know how to get the job done right in a timely manner. 
Van Trailer Repair Norfolk NE
Van trailers are a popular mode of transportation for materials not sensitive to temperature. They can be seen every day on the National Highways carrying cargo throughout lengths and breadths of the country. Naturally, they become overused and suffer damages within a few years. Van Trailer repairs are performed successfully by the expert team at Eastern Nebraska Trailer Repair.
The most common area of damage in Van Trailers is the flooring. It is commonly made of hardwood or composite materials. Water damage, heavy loads and long distance travel weakens the flooring. It develops cracks, breaks or rots due to moisture collection. Flooring, among other issues that can arise with a dry van is a problem no more when you visit Eastern Nebraska Trailer Repair in Norfolk, NE! 
Norfolk NE Flatbed Trailer Repair
If you have a fleet of Flatbed Trailers, then you must go to the most reliable trailer repair service in Norfolk NE. Flatbed Trailer repair, including wood decking and replacements, steel decking and cross members reconstruction are best done by trailer experts at Eastern Nebraska Trailer Repair. The in-house team of professionals can even replace damaged compartment boxes, repair or change front bulkhead walls and headache racks.
Flatbed Trailers are meant to carry heavy duty machinery or industrial products. Even though the flooring is made from tough materials like aluminium, it can suffer from damages due to excess weight of cargo. Such problems can be efficiently tackled by timely repair. Other types of maintenance work involving brakes and suspension, body frames, wheel assembly are also carried out at Trailer Repair Norfolk NE.
Live Bottom Trailer Repair Norfolk NE
The staff at ENT are also experienced in commercial trailer repair. Live Bottom Trailers are commonly used to carry materials like sand, gravel and other loose substances. Some types can be utilized for heavier rock and other materials. The hydraulic system and the conveyor belt assembly suffer most of the brunt in these kind of trailers. Other parts can also be damaged due to overuse or accidents. Whatever may be the case, Live Bottom Trailer repair is best done at Eastern Nebraska Trailer Repair.
Any type of commercial trailer repair including Shuttle Floor Trailer repair is carried out with a guarantee at Eastern Nebraska Trailer Repair. Be it mechanical or body work involving paint and graphics, the team of qualified professionals at ENT is always at your service with their expertise and knowledge.
Never hesitate when it comes to receiving quality trailer repair for your fleet. Your business depends upon the health of your fleet, and you must take proper care of it. The best way to ensure that your fleet is getting the proper care it needs to be successful is to get your trailers handled by simply the best at Eastern Nebraska Trailer Repair. We too have a commitment to never hesitate great service, honesty and our commitment to you.
Looking to rent a grain hopper trailer in Nebraska?